Based in South-East Queensland's Sunshine Coast region, Olivia Ruth is a musical force to be reckoned with.  Whether  performing solo, as a duo, or with her band, she is fast becoming recognised for epic live music performances.  Her band's distinctive rock-infused sound is a product of Olivia's dynamic and unique vocals, impressively-crafted original songs, and a tight and solid group of artists who are passionate about their music.  Their gigs showcase a range of musical styles, from gentle acoustic-driven ballads and funky blues-inspired songs through to powerful rock-solid anthems.

Olivia Ruth Jeffery
Vocals
Rhythm Guitar

Jethro Stone Jackson
Lead Guitar

Jack Blandford
Bass Guitar
---
2019
// MORE GIGS COMING SOON //
SAT 23 MAR
GOODBAR
Mooloolaba, QLD
6-9pm
FREE
SAT 13 APR
GOODBAR
Mooloolaba, QLD
6-9pm
FREE
SUN 14 APR
KINGS BEACH TAVERN
Caloundra, QLD
2pm
FREE
SAT 20 APR
HEAD'S SHED
Wolvi, QLD
8.30pm
Cost (TBA)
FRI 19 JUL
45EAST
45 East St, Rockhampton, QLD
6-9pm
FREE
SUN 21 JUL
YEPPOON CREEK SESSION
Yeppoon, QLD
Time (TBA)
Cost (TBA)
4-7 OCT
'WOOP WOOP FESTIVAL'
Roma, QLD, Australia
TICKETS – check online
woopfest.com.au
MUSIC  /  CDs  /  LISTEN  /  BUY
.
Listen to the tracks from the Olivia Ruth EP, 'Love & Liquor'
NEWSLETTERS / REVIEWS / NEWS
NEWSLETTERS…  
( to receive the current newsletter, fill out the form below and click the 'subscribe' button )
Olivia Ruth – 2019 Newsletters
// COMING…! //
"That is some kind of voice. Magnificent."
– Richard Wilkins, Aust TV presenter (MTV, Today Show)
"…her raw power and vocal range you have to hear to believe, one minute growling and gravelly and a very low tone and the next hitting flute notes vocally that Minnie Ripperton would be proud of…"
– Pete Clarkson
"Janis Joplin-like.  Wow."
– Karl Stefanovic, Aust TV presenter (Today Show)
VIDEOS
//  more coming  soon  //
Olivia Ruth live at The New Globe, Brisbane: "It's Not"
Olivia Ruth live on the TODAY show – 2017
Olivia Ruth live on the Channel 7 News – 2019
PHOTOS
//  coming soon  //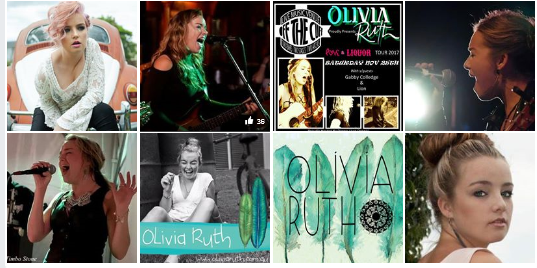 ​
Olivia Ruth (cell/mobile number)
[in Australia] 0439 333 312
[International] +61 439 333 312

WHAT ELSE?   OH, YEAH…
Here's some links to other Olivia Ruth stuff…