Based in South-East Queensland's Sunshine Coast region, Olivia Ruth is a musical force to be reckoned with.  Whether  performing solo, as a duo, or with her band, she is fast becoming recognised for epic live music performances.  Her band's distinctive rock-infused sound is a product of Olivia's dynamic and unique vocals, impressively-crafted original songs, and a tight and solid group of artists who are passionate about their music.  Their gigs showcase a range of musical styles, from gentle acoustic-driven ballads and funky blues-inspired songs through to powerful rock-solid anthems.

Olivia Ruth Jeffery
Vocals
Rhythm Guitar

Jethro Stone Jackson
Lead Guitar

Jack Blandford
Bass Guitar
---
2019
// MORE GIGS COMING SOON //
SUN 16 JUN
High Tide
Mudjimba, QLD
5-8pm
FREE
SOLO
SAT 22 JUN
Sneaky Baron
Maroochydore, QLD
8.30-11.30pm
FREE
SOLO
MON JUL 8
Tribe Gathering 10
Mon Komo Hotel
99 Marine Pde, Redcliffe QLD
5-9pm
FREE
SAT 13 JUL
Sneaky Baron
Maroochydore, QLD
8.30-11.30pm
FREE
SOLO
SUN 14 JUL
Kings Beach Tavern
Caloundra, QLD
2-5pm
FREE
DUO
FRI 19 JUL
45EAST
45 East St, Rockhampton, QLD
6-9pm (tbc)
FREE
FULL BAND
SUN 21 JUL
YEPPOON CREEK SESSION
Yeppoon, QLD
Time (TBA)
Cost (TBA)
FULL BAND
4-7 OCT
'WOOP WOOP FESTIVAL'
Roma, QLD, Australia
TICKETS – check online
woopfest.com.au
FULL BAND
MUSIC  /  CDs  /  LISTEN  /  BUY
.
Listen to the tracks from the Olivia Ruth EP, 'Love & Liquor'
NEWSLETTERS / REVIEWS / NEWS
NEWSLETTERS…  
( to receive the current newsletter, fill out the form below and click the 'subscribe' button )
Olivia Ruth – 2019 Newsletters
// COMING…! //
"That is some kind of voice. Magnificent."
– Richard Wilkins, Aust TV presenter (MTV, Today Show)
"…her raw power and vocal range you have to hear to believe, one minute growling and gravelly and a very low tone and the next hitting flute notes vocally that Minnie Ripperton would be proud of…"
– Pete Clarkson
"Janis Joplin-like.  Wow."
– Karl Stefanovic, Aust TV presenter (Today Show)
VIDEOS
//  more coming  soon  //
Olivia Ruth live at The New Globe, Brisbane: "It's Not"
Olivia Ruth live on the TODAY show – 2017
Olivia Ruth live on the Channel 7 News – 2019
PHOTOS
//  coming soon  //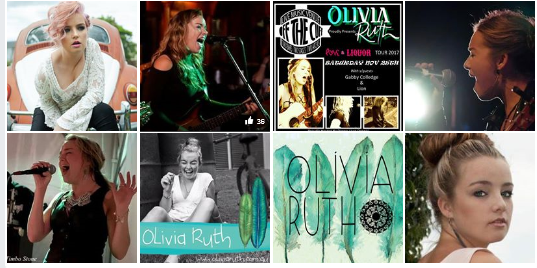 ​
Olivia Ruth (cell/mobile number)
[in Australia] 0439 333 312
[International] +61 439 333 312

WHAT ELSE?   OH, YEAH…
Here's some links to other Olivia Ruth stuff…